Yesterday we celebrated reading and picture books by taking part in the National Simultaneous Storytime event. Right across Australia, in schools and public libraries, children gathered to read The very cranky bear by Nick Bland at 11:00AM.
Three Kindergarten classes came to the IRC where they were enthralled to see and hear the story unfold through the use of the iPad App "The very cranky bear" which was screened on the Smart Board.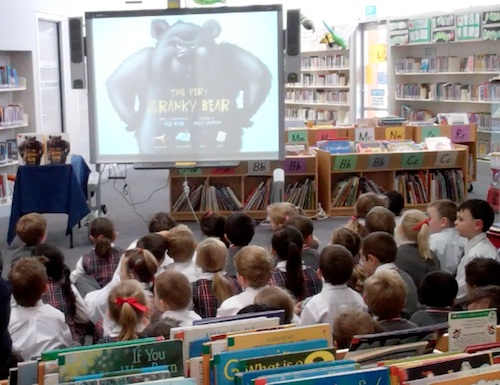 A group of Year 10 students then performed a Reader's Theatre production of the book

…after which the children heard the story again – taking the part of the bear. Roars of sixty very "cranky bears" filled the IRC followed by the appearance of Happy Bear masks at the end of the story.
Not many of the thirty Senior Year 12 students "studying" in the IRC did much work that period – they also chose to enjoy the experience!