Kids Lit Quiz: 13 March 2015
Report by Laura & Mary: On 13th March, 12 students across the Broughton community travelled to Cerdon College, Merrylands to participate in the 2015 Australian Kids Lit Quiz, Sydney heat. There were 3 teams of 4 students. We received excellent results with Broughton B coming 4th out of 21 teams winning the Shakespeare round.
Acknowledgements
We would to all of our teachers who have encouraged us to read. We would like to thank our English teachers who have taught us about Shakespeare. We would also like to thank Mrs Cook and Mrs Sheerman for accompanying and training us.
Report by Kelsey O: In the beginning, I wasn't really sure if I wanted to participate in the Lit quiz. But my friends had said that it was fun, and that I would enjoy it. When the time came for us to leave, we all got in the bus and it was about an hour's drive. When we began, we had to answer a few questions set on one topic, and we went through maybe 7 rounds, and the man reading out the questions would find out who won each round, and we would be able to go to a table with books. We were allowed to choose only one. At the end, I wished we could've stayed longer, but it was time to go. My friends were right. I did enjoy the Lit quiz! I can't wait to do it again sometime.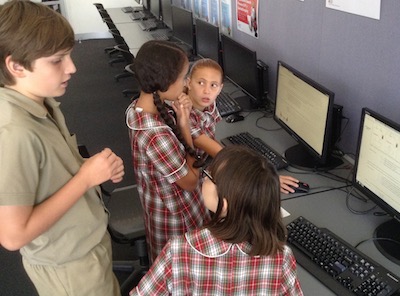 Science IQ Quiz 19 March 2015 – Year 6 Students 
Two Year 6 teams took part in the Science IQ Quiz – an online science competition requiring teamwork, information skills, scientific knowledge and its application.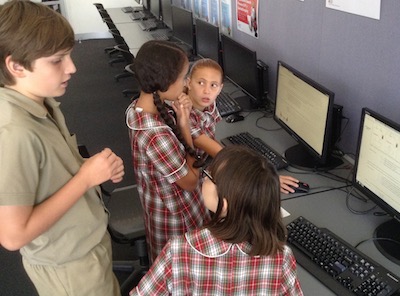 Grandparents' Day in the IRC
We had an amazing response from grandparents to our "Donate a Book to the IRC Collection" activity. As the following photos illustrate, it was a fabulous success! Each book had been especially selected as one that we wanted for our collection and they were very reasonably priced.
We sincerely thank all grandparents for their wonderful generosity.
As soon as the books are processed they will be borrowed out to the grandchildren to take home to read – as the first "borrower" of our new books.