'Across the Story Bridge' was a great theme for Book Week this year and we made full use of it! Our very own 'Story Bridge' near the Secondary Administration building was the venue and all Junior School Students went to a great deal of trouble to make it an eventful day. Characters from many types of books were represented.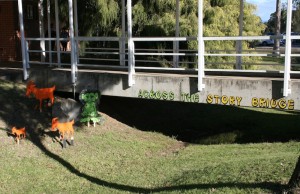 Here are some of the teachers – what good sports! Mrs Lockeridge ("A Particular Cow")took out the Best teacher costume award but it was a hard call!
Students waited patiently for their turn to cross the bridge and wore an incredible variety of costumes from fairies to "The Headless Horseman"!