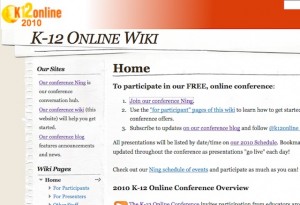 Teacher and interested parents – here is a free online conference dealing with:
"innovative ways Web 2.0 tools and technologies can be used to improve learning. This FREE conference is run by volunteers and open to everyone. The 2010 conference theme is "Cultivating the Future." This year's conference begins with a pre-conference keynote the week of October 11, 2010. The following two weeks, October 18 and October 25, forty presentations will be posted online to our conference blog and our conference Ning for participants to view, download, and discuss."
Experience taking part in a Ning, join the organisational Wiki, read the Blog and follow on Twitter!